Meet Red Freckles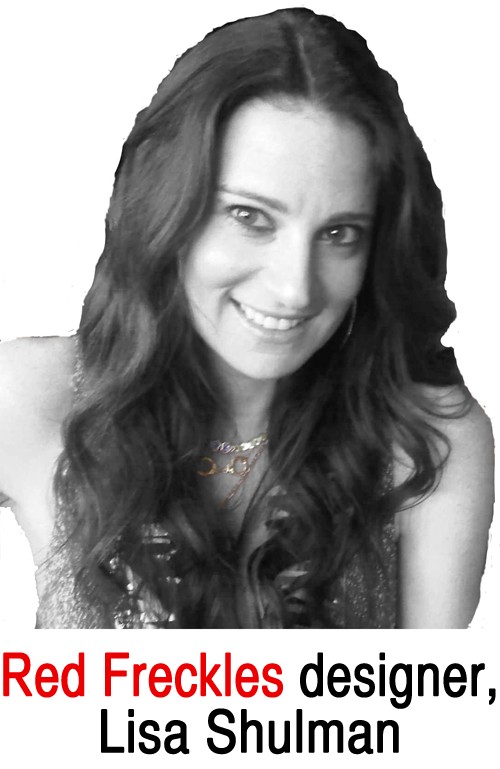 The East Coast serves as a backdrop for Red Freckles' inspiration. With her red hair and freckled face, Red Freckles designer, Lisa Shulman, has been crafting and styling since around the time she could walk at 9 months. Lisa has designed jewelry, sewn handbags and knitted & crocheted other accessories. She blends the essence of industrial design and high-end couture with edgy, young Hollywood, eye-popping appeal.

Lisa's trained eye for detail and wearable art has amassed a cult following of Red Freckles necklaces, bracelets, cufflinks and rings in the Los Angeles and New York areas over the last several years and certainly hasn't escaped the attention of celebs like Ludacris, Heidi Klum and Lindsay Lohan. Her collection is -- above all -- chock full of ultimate conversation pieces.

The Los Angeles based jewelry line provides high-end fashion for everyday wear. Edgy concepts & a touch of clever sophistication give Red Freckles jewelry a uniqueness that keeps it ahead of the trend, making you wish you'd thought of these collectible pieces first.

Red Freckles was founded in 2006 when Lisa used some of her loan money from law school to make necklaces as holiday gifts, instead of buying books. Lisa, has spent the last few years carefully crafting and honing her skills to bring cool and interesting wearable art jewelry design concepts to life.

Red Freckles has been featured on several TV shows including Regis and Kelly, The Today Show, The Insider, Entertainment Tonite and The Simple Life 3. Hand crafted Red Freckles necklaces have been seen around the necks of many celebrities and in the pages of magazines like OK, US weekly and People.